Carla Samorì was born in 1964 in Forlì, she lives and works near Ravenna – Italy.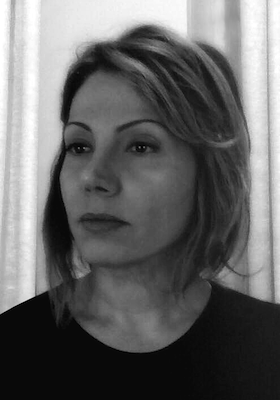 The strong interest in the visual arts and drawing push the artist to attend specializing courses. She relies on the advices of the masters GG and IE especially in the fresco painting technique.
She's always looking for new artistic and technical processes and expressive plasticity developing a personal artistic language and a distinctive vision.
She's present in many contemporary art exhibitions and achieves critical acclaim for her particular technique of fresco painting on canvas.
Her works are in private collections in Italy and abroad.
Critics interested in her paintings are:
Prof. Vittorio Sgarbi, Salvo Nugnes, Gianni Dunil, Jean Charles Spinà, Mariarosaria Belgiovine, Maurizio Gnali, Francesco Chetta, Federica Pasini, Walter Albonetti, George Pali, Augusto Mori, Elena Cicchetti, Alessandra Rossetti, Renato Natale Chiesa and many others.
Publications and reviews:
Arte Mondadori Januari 2015, Monthly Arte Mondadori November 2014, monthly Arte Mondadori June 2014, Arte Collezionismo pittori e Scultori del 900 – 2014, Official Catalogue Vernice Art Fair 2014 – Fiera di Forlì, Contemporanea Fiera di Forlì 2013, Catalogue Biennale di Montecarlo Hotel de Paris 2014, Catalogue La Gondola d'oro per l'arte Venezia 2014, I Segnalati di Arte Collezionismo 2014, Biancoscuro bimonthly art magazine – Febbraio 2014.
The artist develops visual formulas combining leaden and evanescent reflactions depending on the tonal impacts, freeing the instinctive expression of the palpitating evocative reality. Mariarosaria Belgiovine
The enchanting fresco technique, artistically developed during her studies, wraps the dream like vision of contemporary surreal.
The expressive power is directed to communicate with the observer of her works with endless emotional dialogues of our society; Carla Samorì is author of superb and sweet visions, captured by her intimate introspection and translated by her ability to render evocative every particular, taken from far and silent emotions. Francesco Chetta
Simone De Beauvoir in 1949 called "Second Sex" the first work in search of the awareness of being a woman. Our artist embodies it perfectly.
Her passionate intimacy, developed in her works, where you can feel her sensitivity at first sight, takes us to feel a moving introspection by getting lost in the maze of woman's feelings. Samorì is not assimilable to any particular art current, in fact she is completely original, so that you can say that the face expressions with visionary eyes and the thin bodies assume elastic and peculiar positions.
Our artist uses an ancient technique: fresco painting on canvas and her cleverness enables her to fix the colours on wet plaster and we know that not all colours can bind to the lime, so with the use of ochre, brown, beige, beside being a technically, Samorì suggests the warmth of the first goodess worshipped by men: Mother Heart. Federica pasini